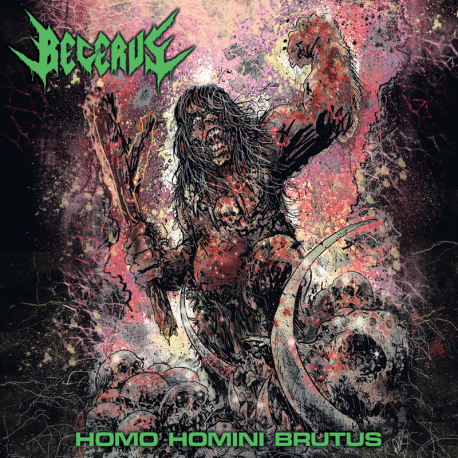 Becerus- Homo Homini Brutus CD on Everlasting Spew Rec.
$ 13.00
BECERUS' first grunt is a genuine declaration of love for the 90"s Death Metal scene! Fans of early Cannibal Corps, Broken Hope or Monstrosity will definitely have a boner with this!
Featuring Giorgio from Assumption and Mario from Balatonizer, BECERUS will dive you into a magma of riffs, ignorance and insane growls!
BECERUS have absolutely NO LYRICS!
Guitars and bass tracked at Giorgio's home studio, Cavaso del Tomba (IT).
Reamping and vocals engineered by Silvio "Spadino" Punzo at Tone Deaf Studio, Palermo (IT).
Mastered by Carlo Altobelli at Toxic Basement Studio, Carate Brianza (IT).
Recorded between June and December 2020.
Cover artwork by Dahmer Art.
Logo by Sandro Di Girolamo.
Layout by Sara Bianchin/devilsindetails.
Mario Musumeci - Vocals
Giorgio Trombino - Guitars and Bass
Paul Bicipitus - Drums