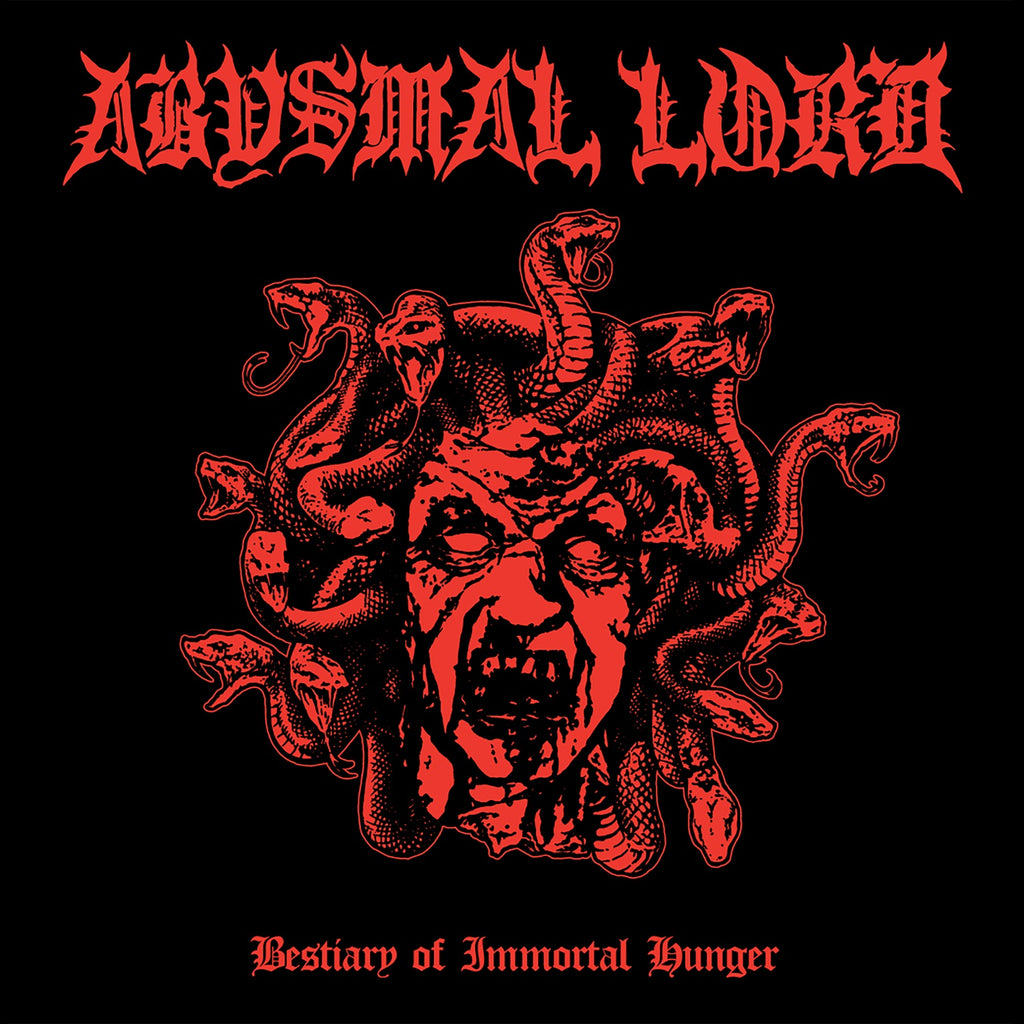 Abysmal Lord- Bestiary Of Immortal Hunger CD on Hells Headbangers
$ 10.50
HELLS HEADBANGERS is proud to present ABYSMAL LORD's highly anticipated third album, 
Bestiary of Immortal Hunger
, on CD, cassette and vinyl LP formats.
Since their grand emergence in 2014 with the 
Storms of Unholy Black Mass
 debut EP, New Orleans' ABYSMAL LORD have vaulted to the forefront of the modern bestial metal scene. Red-eyed and rabid, their primeval surge swallows listeners whole with preternatural ease - or simply (black)grinds them down to dust. Under the auspices of HELLS HEADBANGERS, the band has gone from strength to strength with each new recording, each one a swift 'n' tactical strike on all that is holy and pure. Both 2015's 
Disciples of the Inferno
 and 2019's 
Exaltation of the Infernal Cabal
 have established ABYSMAL LORD as a none-more-formidable name in the metal underground, with their shock 'n' awe live prowess proving that such sonic bestiality is best witnessed in the flesh.
Since the release of 2020's 
Cathedral 
EP, much has transpired in ABYSMAL LORD camp. A tumultuous period, drummer Barbaric Slayer exited the band to further pursue a spiritual journey deeper inward. Meanwhile, vocalist/guitarist Nocturnal Damnation and bassist/guitarist Guillotine committed themselves to continuing the path of no return. With no reasonable alternative, ABYSMAL LORD decided that, for their next full-length, Nocturnal Damnation will handle drumming duties (as was done on the aforementioned 
Storms of Unholy Black Mass
). Maximum effort was expended to ensure that the brutality and chaos of Barbaric Slayer's tradition was honored and continued.
And indeed it has, and then some, with the arrival of 
Bestiary of Immortal Hunger
. On first glance, ABYSMAL LORD's third album retains all the red-eyed and rabid elements of yore - OTT explosion and forward propulsion in the grand tradition of Blasphemy, Black Witchery, and Proclamation and then malforming it into morbid, miasmic shapes - but peer deeper into this gurgling pit of despair & darkness and one will find surprising twists to their core sound. Foremost, perhaps, is the unhinged drumming of Nocturnal Damnation; foregoing sustained blasting, instead he draws influence from the fucked-up 'n' feral drumming of DD Crazy (during his early Sarcofago days as well as Sextrash) and Hadez' Tonyn Destructor, especially on that band's 
Guerroros de la Muerte
 demo. Unorthodox but undeniably effective, these more angular and askew rhythms form a (feral/fucked-up) foundation for ABYSMAL LORD's most CRAZED and chaotic songwriting to date.
As such, while retaining their foundational elements, ABYSMAL LORD's newest offering bears semblance to South America's most infernal names: the aforementioned early days of Hadez, Sarcofago, and especially Sextrash but also Holocausto, Parabellum, and Reencarnacion. With an even more unsettling style of evil and total darkness, not to mention a plethora of mind-melted solos, 
Bestiary of Immortal Hunger
 also slots itself well alongside Mystifier's pivotal first couple albums and early Beherit. Naturally, naysayers will still contend that this unholy racket is still "just" bestial metal or war metal or whatever - and for ABYSMAL LORD, that's fine, as hailing and giving honor to a certain tradition in metal is part of the essence of this wider subculture. Those who know, know, and they will understand deeper, darker truths with this 
Bestiary of Immortal Hunger