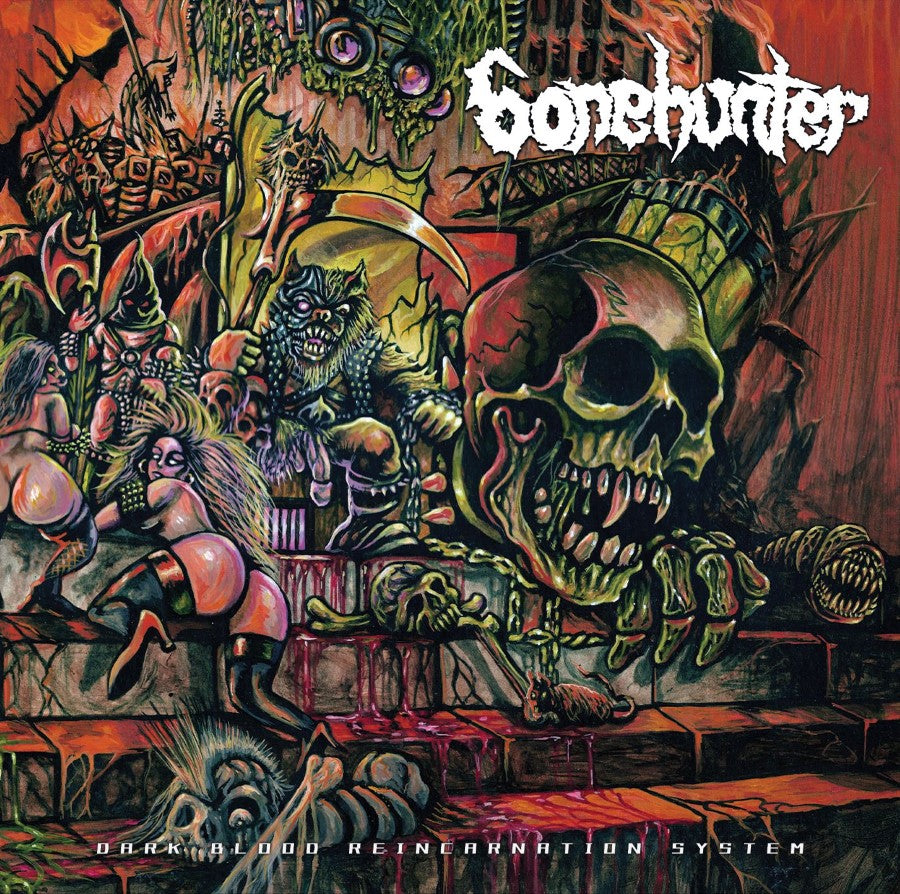 Bonehunter- Dark Blood Reincarnation System CD on Hells Headbangers
$ 10.00
HELLS HEADBANGERS is proud to present BONEHUNTER's highly anticipated fourth album, 
Dark Blood Reincarnation System
, on CD, vinyl LP, and cassette tape formats.
Since their formation in 2011, Finland's BONEHUNTER have been a subtly steady work in progress. A devout power-trio since the very beginning, the band began their ascent to greatness with a clutch of demos and splits, culminating in their now-classic debut album for HELLS HEADBANGERS, Evil Triumphs Again, in 2015. If that debut LP was the first and last word on Bathory worship, BONEHUNTER took the charisma of that record and asserted a strange & twisted identity with 2017's Sexual Panic Human Machine follow-up. By then, their blackened metalpunk was pumping on full-throttle, but it was Children of the Atom the following year where they hit a fever pitch: arguably, the most ripping & addicting pitch-black speed metal of the decade.
And whereas that album showed subtle traces of classic Japanese Burning Spirits-style punk, on 
Dark Blood Reincarnation System
 do BONEHUNTER burst through the doors of greatness - and tear them off their fucking hinges! Immediately and irrevocably, the guitar leads across BONEHUNTER's fourth full-length bristle with an electricity that's amazing to behold, Burning Spirits-indebted or not; call them "anthemic" or even "hummable," it's not difficult to imagine these instantly ingraining tunes being sung back in full force from a crowd of maniacs high on heavy metal blood. Equally, the trio have sharpened their songwriting chops to an insanely focused degree, moving at many speeds and across many dynamics - relatively speaking, of course, for this is still BLACKENED SPEED METAL after all - but always sounding like the same band. And perhaps most remarkable is the production across 
Dark Blood Reincarnation System
: the perfect balance of grit and gleam, blood and thunder, power and poise. But again, perhaps this is just form meeting content...and THOSE LEADS!
Reading into its title, 
Dark Blood Reincarnation System
 could very well spell the story of BONEHUNTER itself: evolution vs. revolution, revolution vs. reinvention, each record different but from the same band. Graced with appropriately lurid cover art courtesy of ACID WITCH & SHITFUCKER's Shagrat, 
Dark Blood Reincarnation System
 is the new modern classic from Finland's filth bears of Hades - BONEHUNTER!