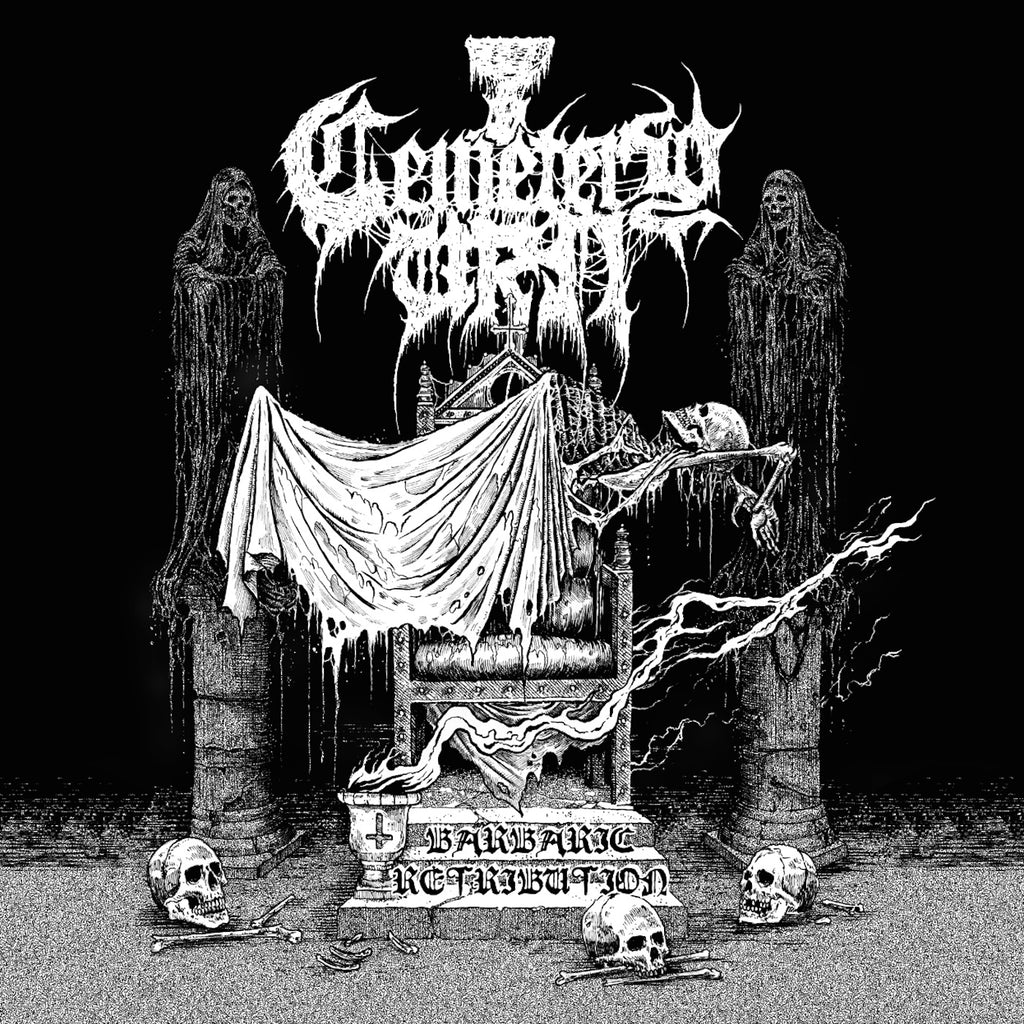 Cemetery Urn- Barbaric Retribution CD on Hells Headbangers
$ 10.00
HELLS HEADBANGERS is proud to present CEMETERY URN's highly anticipated fourth album, 
Barbaric Retribution
, on CD, cassette and vinyl LP formats.
By now, CEMETERY URN should need no introduction. A staple of the Australian extreme metal scene, for over a decade now, the band have been a study in staunch self-reliance, self-booking two highly successful tours across the United States as well as releasing their first two albums on their own Cemetery Recordings. Although HELLS HEADBANGERS would release those first two albums - 2008's 
Urn of Blood
 and 2010's 
The Conquered Are Burned
 - on vinyl in 2011, CEMETERY URN's spirt is fiercely independent. Not to mention that they've a deep history in that Australian extreme metal scene: founding guitarist and songwriter Andrew Gillon also hails from reactivated Aussie barbarians ABOMINATOR, and previously played in the final lineup of BESTIAL WARLUST; original vocalist Damon Bloodstorm was renowned as the frontman for BESTIAL WARLUST and for ABOMINATOR from 1996-2001; and drummer Matt Crossingham, who's played with such bands as Belligerent Intent, Scars of Sodom, and Draconis Infernum.
Following up the momentum created by last year's poised 'n' powerful 
Cemetery Urn
, CEMETERY URN strike with arguably their most vicious record yet. Ever aptly titled, 
Barbaric Retribution

 
indeed makes good on the band's self-branded "Australian Barbaric Death Metal" tag, taking the martial foundation of their earlier work and locating a blood-red-raw humidity which makes their incendiary maelstrom all the more overwhelming. CEMETERY URN have never been short on powerful production - always, a balance between crush and clarity is sought - but 
Barbaric Retribution
, perhaps due to its take-no-prisoners title, pushes the intensity to near-suffocating levels. But within that unremitting savagery lurks a greater number of doomed-out down-tempo twists and some truly demonic soloing, all ever suggestive of the very literal Armageddon at the heart of their aesthetic. Above all, 
Barbaric Retribution
 truly proves that unrelenting intensity and top-shelf songwriting need not be mutually exclusive terms - or, more to the point, that 
Barbaric Retribution
 is indeed BARBARIC RETRIBUTION!
Now scaled back to a lean 'n' mean quartet, Gillon handled bass in addition to his guitar duties on 
Barbaric Retribution
, but the record sees the arrival of new vocalist S. Geoffery, who'll also be handling bass for live performances. Says Gillon, "I've worked with S. Geoffery in ABOMINATOR live, so I knew he was capable of total unchained barbaric hatred, but the vocals recorded on the new album went beyond our most brutal expectations. ThereÕs definitely some continuity from the Bloodstorm era of CEMETERY URN to the new era of 
Barbaric Retribution
! The decision to continue as a four-piece will enable CEMETERY URN to get back on the road again and continue to brutalize metal maniacs worldwide! 
Barbaric Retribution
 is our manifesto to the stench of existence through this final stage of global decay."