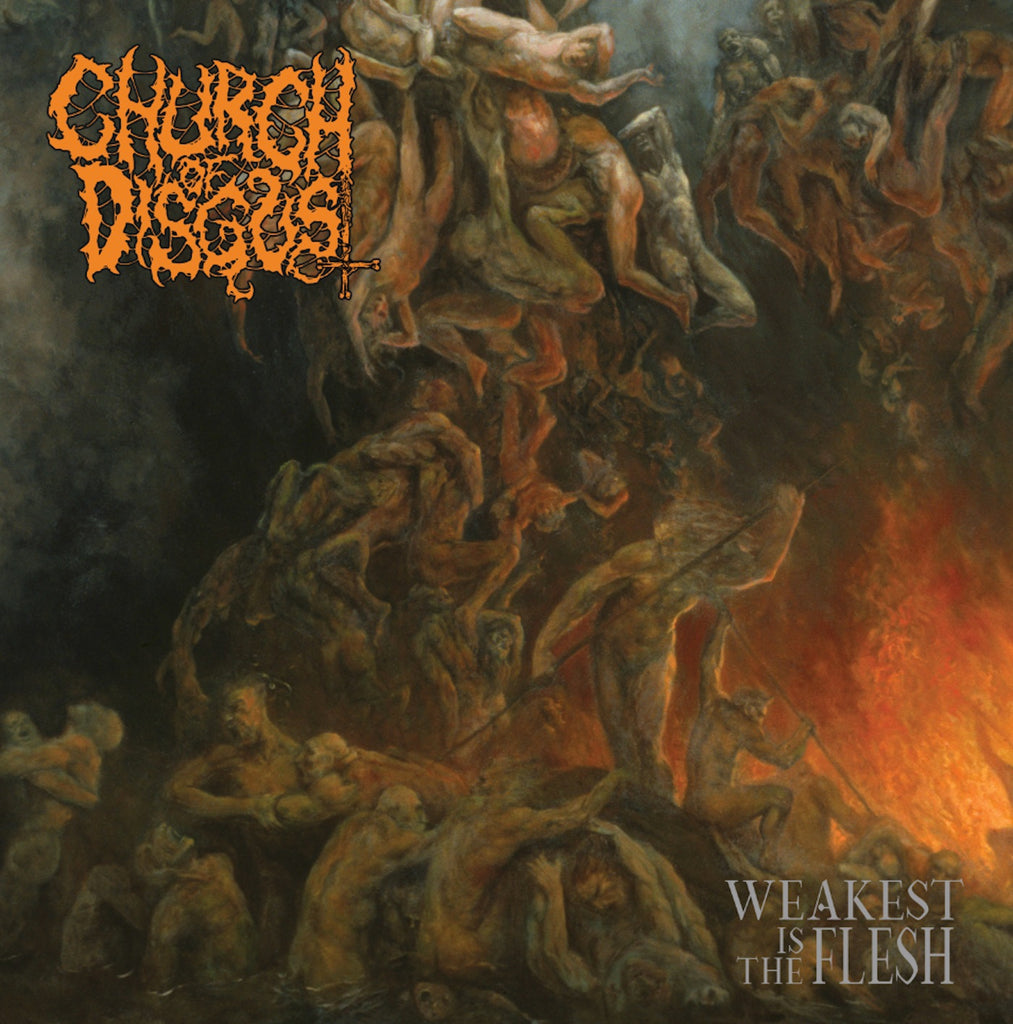 Church Of Disgust- Weakest is The Flesh CD on Hells Headbangers
$ 10.50
HELLS HEADBANGERS is proud to present CHURCH OF DISGUST's highly anticipated third album, 
Weakest is the Flesh
, on CD, vinyl LP, and cassette tape formats.
Since forming in 2010, CHURCH OF DISGUST have been spreading sickness throughout the underground. Made up of lead guitarist Joshua Bokemeyer, drummer Dwane Allen, bassist Travis Andrews, and guitarist/vocalist Dustin James, CHURCH OF DISGUST unleashed two demo tapes before releasing their debut full-length, 
Unworldly Summoning
, in 2014 via Spain's Memento Mori Records. The next year saw the release of the 
Dread Ritual
 EP on Headsplit Records (tape) and Craneo Negro Records (Mexico). In 2016, the band released 
Veneration of Filth
 ( in multiple formats via Memento Mori Records, Headsplit Records, and later Maggot Stomp/Sunken Tomb Records), which quickly began making waves in the underground. In the years to follow, the band focused on touring more and making some memorable festival appearances before releasing the 
Consumed by Slow Putrefaction
 EP on Maggot Stomp Records in 2020. These three hymns of crushing swamp sickness proved them to be heavier and with more refined songwriting, ignoring trends and staying true to their vision of death metal the way it was meant to be played.
Now aligned with HELLS HEADBANGERS, 2022 will bring total death, as CHURCH OF DISGUST will be releasing their third album, and first for the label: 
Weakest is the Flesh
. Continuing the momentum of their preceding EP, these Gulf Coast death metal fiends deliver their catchiest and most crushing record yet with 
Weakest is the Flesh
. The formula is almost deceptively simple: immediately memorable songwriting that doesn't insult the listener's intelligence with over-simplicity nor try to impress with needless technicality, and delivered with impassioned execution and clear-yet-powerful production. It's "old school" only in the sense of honoring the power of THE RIFF (as well as well-timed divebombing solos!) and otherwise doesn't pander to the usual retro-posturing cliches. As such, CHURCH OF DISGUST here variously nod to classic CIANIDE, Gorefest, Cancer, Pentacle, Opprobrium, and even Napalm Death's 
Harmony Corruption
 but never for too long nor too obviously; their charisma and personality bleed through everything, above all. And 
Weakest is the Flesh
's 41 minutes just fly by like that, lodging firmly in the cranium but compelling the listener to press "play" repeatedly.
Featuring eight tracks of ungodly heaviness and the most efficient songwriting around (and a haunting interlude and outro), 
Weakest is the Flesh
 is undoubtedly CHURCH OF DIGUST's strongest statement to date. DEATH METAL OR DIE!!!