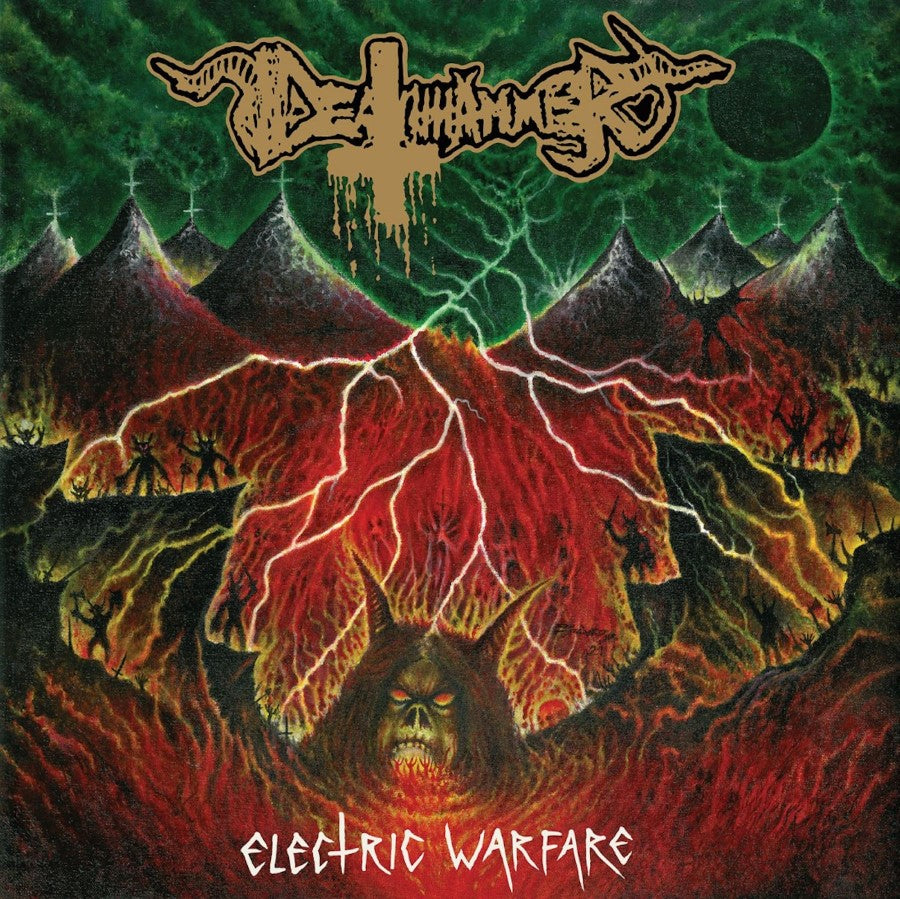 Deathhammer- Electric Warfare CD on Hells Headbangers
$ 10.00
HELLS HEADBANGERS is proud to present DEATHHAMMER's highly anticipated fifth album, 
Electric Warfare
, on CD, vinyl LP, and cassette tape formats.
By now, DEATHHAMMER should need no introduction. For over 15 years now, this insatiable Norwegian duo have been at the forefront of the burgeoning blackthrash movement; in fact, one could successfully argue that the band are THE linchpins of that resurgence. Though blackthrash has seen intermittent surges in popularity since the latter half of the '90s onward, for sole members Sadomancer and Sergeant Salsten, this is a way of life - not a trend. DEATHHAMMER proved as much as with their cult debut album, 
Phantom Knights
, in 2010 and then proved it yet further and more fully - and more furiously and filthily - with 2012's 
Onward to the Pits
 and 2015's 
Evil Power
, both of which were released by HELLS HEADBANGERS to widespread international acclaim. And yet, through it all, the duo kept their wits about them, simply being DEATHHAMMER and taking their irresistible (and irresistibly evil) charm to stages worldwide, including a command performance at HELLS HEADBANGERS' Hells Headbash 2 in 2015. But, one need only took to 2018's 
Chained to Hell
 as the first AND last word on eternal, magickal blackthrash: "classic" doesn't do the album justice.
While the duo have been quiet ever since - Sergeant Salsten moved to Australia during the 
Chained to Hell

 
recordings - at long last do DEATHHAMMER return to reaffirm their position as the kings of blackthrash with 
Electric Warfare
. All-too-perfectly titled, 
Electric Warfare

 
is a veritable blast from the past, in more ways than one. As Sadomancer explains, "We recorded it many years ago before 
Chained to Hell
 was out when Sergeant Salsten visited from Australia in 2016, but those recordings got scrapped. Then we worked on it some more years and finally started to record it again at the start of 2020 with - from my part - a couple of new tracks. We threw away a couple in favor of new better ones." Indeed, the devilish dialogue between the two plays out in righteous form on 
Electric Warfare
, offering DEATHAMMER's most ripping and intense songs yet as well as some of their most epic. Sadomancer reasons that his songs are fairly long and intricate while Sergeant Salsten's are ultra-short and to the point; together, the bloodied canvas on which they write is a torrent of timeless metal mayhem, whether you qualify it strictly as "blackthrash" or simply HEAVY METAL. Perhaps the biggest development here is the utterly awesome recording, ably balancing the band's original rawness with a never-overstated professionalism - credit the mix courtesy of Arild Torp of NEKROMANTHEON and Obliteration.
Topped off by another killer cover painted by longtime comrade Eduard Johnson, DEATHHAMMER deliver their biggest metal inferno with 
Electric Warfare
!