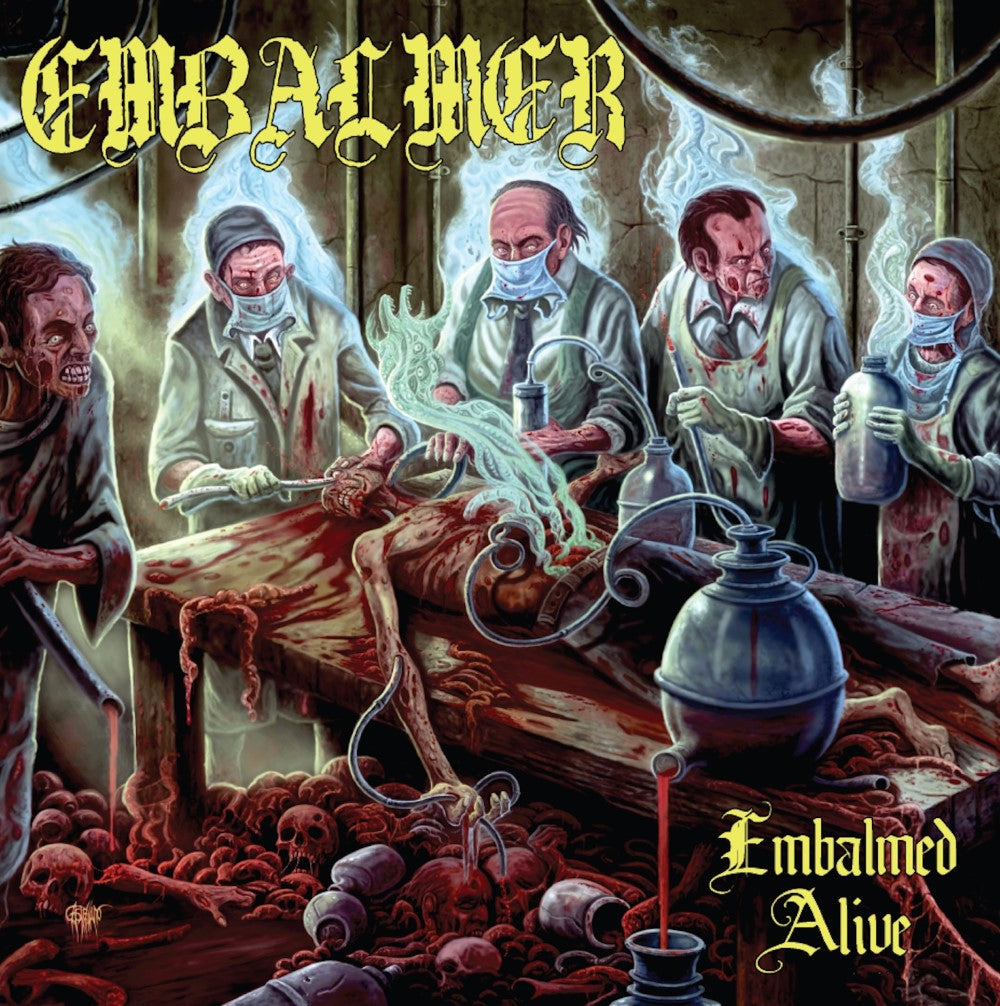 Embalmer- Embalmed (A)live CD on Hells Headbangers
$ 10.00
OUT NOW! HELLS HEADBANGERS is proud to present a special live album from legendary American death metallers EMBALMER, Embalmed Alive, on CD format.
By now, EMBALMER should need no introduction. Spawned in the golden year of 1990, they would spend the next number of years releasing cult demo after cult demo, spreading their pestilence across the burgeoning death metal underground of the early '90s. Come 1995, however, EMBALMER would release the classic
There Was Blood Everywhere

 
EP on Relapse and would forever etch their name into legendry.
The ensuing years would see EMBALMBER break up and then re-form and more recordings, with ever-shifting lineups, all before their glorious comeback in 2016 with
Emanations from the Crypt
, courtesy of longtime fans HELLS HEADBANGERS. Massively critically acclaimed,
Emanations from the Crypt
displayed a ravenous 'n' revitalized EMBALMER, prepared to make up for lost time with a filth and fury that simply couldn't be denied.
EMBALMER has always been known as a ferocious live band, delivering devastating performances to stages for nearly 30 years. During that time, a lot of great musicians have contributed to EMBALMER's legacy of sickness & brutality, with drummer Roy Stewart remaining as the band's founding patriarch. In the 1990s, many live bootlegs were recorded and traded over the years, which today have been replaced with YouTube clips. Although EMBALMER love the rawness of these recordings, the band decided to enter Brainchild Studios in 2017 to record a high-quality live release for all the fans, old and new. Contained here on
Embalmed Alive
are 15 tracks spanning EMBALMER's entire career. This recording is meant to be a representation of a typical headlining setlist. Also included are studio-quality versions of two songs from 1992 ("Taxidermist" and "Projectile Vomit") that never got a proper official release. All tracks on Embalmed Alive were recorded live all the way through, with no studio magic, triggers, or edits. Be on the lookout for a brand-new EMBALMER studio album later this year on HELLS HEADBANGERS!