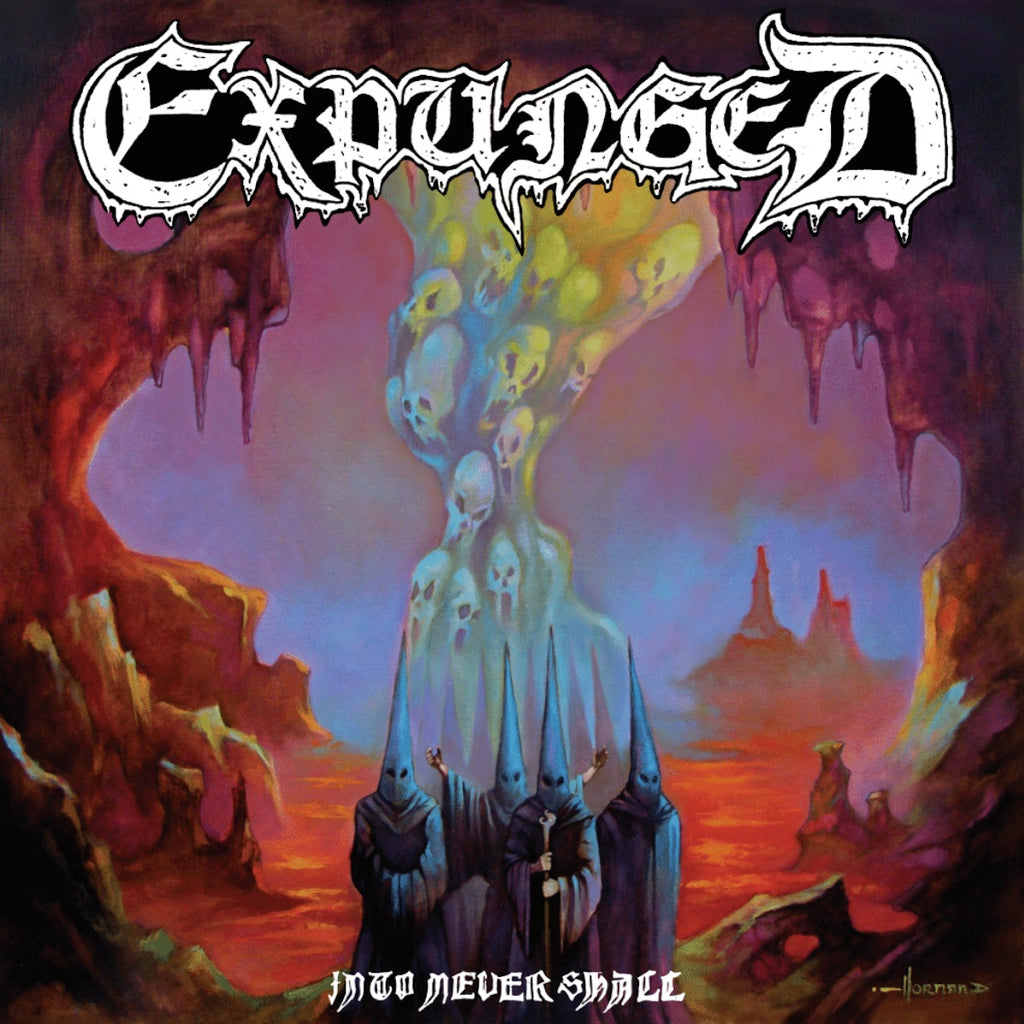 Expunged- Into Never Shall CD on Hells Headbangers
$ 10.00
HELLS HEADBANGERS is proud to present EXPUNGED's highly anticipated debut album, 
Into Never Shall
, on CD and vinyl LP formats.
EXPUNGED is the brainchild of death metal master W.D., who's previously handled the axe in Dead Soul Alliance and Evolution Fail stretching as far back as the mid '90s. While W.D. is the songwriter, K.F. joined on drums (from old-school death metallers Töteblut) while J.S. (AKA Jo "Steel" Capitalicide from Ice War) is on vocal and lyrical duties as well as handling the bass, with the latter showing how versatile his singing abilities can somehow be. Formed in the spring of 2019, this Canadian power-trio proved how deadly their brand of downtuned HM-2-style death metal could be with their self-titled debut EP for HELLS HEADBANGERS, released to widespread acclaim in April 2020.
Wasting no time continuing their attack, EXPUNGED return with their first full-length, 
Into Never Shall
. Now featuring A.K. on drums, the band have thankfully made no great changes to their juggernaut sound - exquisitely filthy, utterly crushing, immediately memorable, the inexorable onslaught of a monolithic, rust-covered tank - and 
Into Never Shall
 is all the better for it. If anything, EXPUNGED have upped the catchiness here whilst not once softening that molten crush. Similarly, while the grime of 
Expunged
 still courses through the album's viscous veins, there's a decidedly darker atmosphere being conjured across 
Into Never Shall
, vividly matched by the gorgeously moody cover artwork courtesy of French fantasy novel painter Didier Normand. Above all, this debut album underlines EXPUNGED's commitment to death metal classicism, reverent but never regressionist, and displays the power-trio's own take on it. Which is all to say nothing of yet another CRUSHING (and totally DIY) production courtesy of Top Das (Fuck The Facts) at his Apartment Two Studio.
If the tank crush of 
Expunged
 somehow missed you last year, there's simply no way to avoid the onslaught of EXPUNGED's 
Into Never Shall
. Absolutely mandatory for maniacs of Nirvana 2002, Carnage, and especially Bolt Thrower!