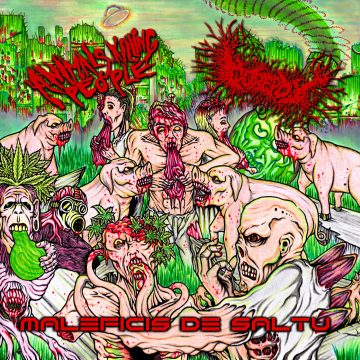 Animals Killing People / Gorepot- Split CD on CDN Rec.
$ 10.00
All new tracks from both bands!!
AKP side was recorded, mixed and mastered at Menegroth, The Thousand Caves by Colin Marston in October 2018.
All music by Animals Killing People, except "If the truth be known" by Napalm Death.
All lyrics by Wilson Rairan
*Guitar solo on "If the truth be known" by Colin Marston
*Vocals on "If the truth be known" by Jhon Cadena
Vocals recorded at Overdrive Studio in Bogota, Colombia by Juan Ortiz
Samples and intros arranged by Wilson Rairan
Cover artwork & layout concept: Wilson Rairan
Cover Artwork by: Glynford Cabarse
Tracklisting:
1. Wizardry of Animal Shapeshifting
2. Cysticercosis Brain Invasion
3. Arthropod Eating Flesh Necrosis
4. If the Truth be Known (Napalm Death)
Animals Killing People are:
Horacio "Ammo" Diaz: Guitars, Bass & Vocals
Carlos Estrada: Guitars, Bass & Backing Vocals
Wilson Rairan: Drums & Backing Vocals
ANIMALS KILLING PEOPLE is a vision of the musical, artistic, and animal activististic direction of Wilson Rairan, who began his impressive influence within the Death Grind genre as the original drummer of Colombian Death Grind pioneers PURULENT.
Wilson Rairan has been the centerpiece of the band, contributing parts for all instruments during the composition of each release, and carefully selecting studio and session members throughout the history of the band.
Gorepot:
One Man Brutality from the Far East land of Taiwan has transformed in to a 3-man drum machine band.
Gorepot combines a bunch of elements : sickness, sickness, sickness, pigs, gore, blood, beer bongs and the magic dragon.
Gorepot is here to destroy ears and bring brutality to the land. People might not know what the mysterious land is capable of, Gorepot is here to show you.
Some of Gorepot's songs are incredibly fast it's crazy.
SONG TITLES:
5. BUSHY BONG
6. BRITISH CROTCH ACTIVITY
7. STOP METHING AROUND
8. COUPLES WHO DON'T WORK OUT THEIR RELATIONSHIPS DON'T WORK OUT
Formed late 2008,
Enjoy the Ride!!