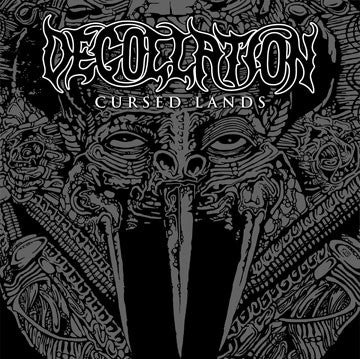 Decollation- Cursed Lands 12" GATEFOLD LP VINYL on The Crypt Rec.
$ 20.00
DECOLLATION (Liers in Wait / Grotesque) (Swe) CURSED LANDS Official Gatefold LP (CRYPT 54)

In cooperation with Listenable records, After 5 long years, we are finally ready to to unleash for the first time ever on vinyl, the 1992 debut and only recording from Swedish Death metal super group DECOLLATION! An obscure gem of unorthodox Death metal featuring Kristian Wåhlin and Johan Österberg (Liers in Wait / Grotesque) as well as Thomas Johansson (Ceremonial Oath / Macabre End).

Decollation was a short­lived death metal band from Gothenburg, Sweden formed in early 1991 by schoolmates Johan (guitar / vocals), Thomas (bass) and Lars (drums). Soon after inception Niclas joined on keyboards adding a more ambient dimension to their blend of thrash­infused, Florida style death metal. After a couple of shows Lars was replaced by a friend of the band, Kristian.

In February 1992 the band entered Sunlight Studios with producer Tomas Skogsberg in order to record 4 songs. Shortly after the recording the band started dissolving. In the fall of 1992 Listenable Records picked up the Sunlight Studios recording, eventually releasing it on cd as "Cursed Lands" in June 1993.

This long overdue release will be presented in a sturdy 350 gram gatefold jacket featuring the original intended artwork from Kristian Wåhlin, with unpublished band photos and layout by Samual Durling who has worked with the band members doing layouts for over 20 years.