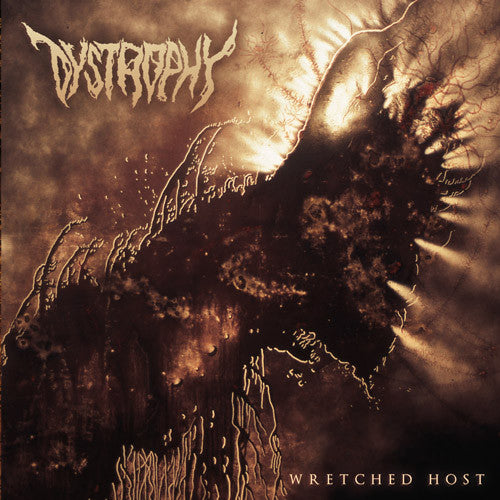 Dystrophy- Wretched Host CD on Self Made God Rec.
$ 11.00
Like all the best aural descents into madness, this one has taken its time to ready itself for another level of technical insanity, but now on a much darker plane. It's time for DYSTROPHY to showcase the latest step in evolution, their 2nd album "Wretched Host".
 
The album is bookended by two haunting pieces of violin work, provided by guest Ben Karas (AKA Valček) of Windfaerer and Thank You Scientist, while the meaty tracks in between boast of a dissonant, warped and twisted death metal. Downtuned riffs ring out among a maelstrom of rhythmic shifts, and guttural vocals intone tales of the experience of losing your mind, based on personal experiences.
 
"Wretched Host" was mixed by guitarist Peter Lloyd at One Stone Recording & Mastering in New Brunswick, NJ, in keeping with the band's DIY ethic, and was mastered by Alan Douches (ATHEIST, DEATH, CANNIBAL CORPSE) at West West Side Music in New Windsor, NY.

A must have for fans of DEATH, GORGUTS, ATHEIST, VOIVOD, RIPPING CORPSE, HUMANS REMAINS, DEATHSPELL OMEGA and the likes.
"This band evokes the same sorts of feelings and emotions that Gorguts do, which is saying a lot: add in a touch of swirling, swarming extreme death metal and also some sounds that bring the listener back to the glory days of Atheist and Pestilence, before technical death got overbearing, and the end result is just fantastic." - Brave Words

"...the combination of influences in Wretched Host give it an immediate accessibility without compromising the complexity or heaviness that is needed to be successful. It's an intoxicating mix that effectively takes the best elements of the noted influences and brings them together into something more. Expect Wretched Host to turn some heads as word  gets around about these guys. Dystrophy should be on your 'get to  know' list." - Dead Rhetoric

"Perhaps most impressive, though, is the overall feeling of the album. Lloyd and Brown's bottomless chugs, pick scrapes, and emotive solos (see "Exoparasite" for a perfect example) never feel forced. Everything is used to enhance that dissonant tone that always feels like a slow march to the grave, every black hole dive bomb of a downtuned riff taking you one step closer to oblivion." - Toilet ov Hell

"Dystrophy have truly delivered a different death metal experience with Wretched Host, one that could almost be considered doomy, yet never simple or repetitive. If you're one of those people who rants about how there are no new good death metal bands, or that they all sound the same, remove your head from your anus and give this a spin. You just might agree with me. Or not. It's not like I care!" - No Clean Singing

"This is brutal, technical death trudging through a doomy swamp... Everything about the sound is so deep and sickening. But rather than having a cavernous, blackened aesthetic; Dystrophy sounds like Cthulu emerging from a stagnant bog." - Metal Trenches

"The band quickly shows their ability to experiment within and beyond the confines of their primary sub-genre. This proves to be a large part of the album's allure. Dystrophy knows how to think outside of the box.... and I mean far outside the box. This spans through hints of Thrash, Sludge, and beyond to realms rarely traveled." - The Circle Pit

"Wretched Host is consistent punishment in a manner of Ulcerate meets Morbid Angel, which is more than okay in my book. Dystrophy's sound is heavy but they are in no rush to pummel you, the song writing is definitely creative and enjoyable; brutality in a swamp of viciousness." - Headbang or GTFO
1. Apex  
2. Singularity
3. Within the Mind 
4. Exoparasite
5. Wretched Host
6. Demise 
7. Anhedonia
8. Nadir