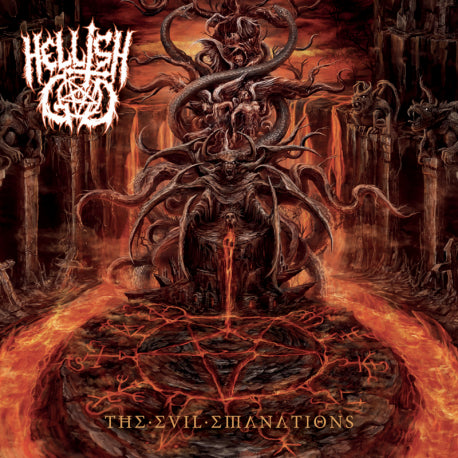 Hellish God- The Evil Emanations CD on Everlasting Spew Rec.
$ 12.00
Hellish God's "The Evil Emanations" showcases 10 tracks of blasting Death Metal! Featuring current and former members of Antropofagus, Imposer and Mindful Of Pripyat the band moved its first steps in 2015 with the intent to play savage and satanic Death Metal influenced by the classic late '90s sound. 
"The Evil Emanations" is the band first full album and is conceptually focused on Qlipoth, metaphorical shells which represent evil spiritual forces in the Jewish mysticism.
For fans of Azarath, Rebaelliun, Krisiun, Abhorrence.


Produced by Hellish God 
Co-produced by Everlasting Spew Records 
Recorded and mixed at Toxic Basement Studio by Carlo Altobelli 
Mastered by Fabio Palombi at Blackwave Studio 
All songs written by Contenti/Di Ioia 
All lyrics by Tya 
Rangel Arroyo - Lead Guitars on "Burning The Infidel" 
Mario Seaone - Effects on "Kelim Shattering Illumination" 
Cover Art by Adi Dechristianize 
Layout and graphics by Raoul Mazzero/View From The Coffin 
Tya - Lead Vocals 
Luigi Contenti - Drums 
Michele Di Ioia - Rhythm, Lead Guitars and Backing Vocals 
Stefano Malgaretti - Bass Guitars and Backing Vocals