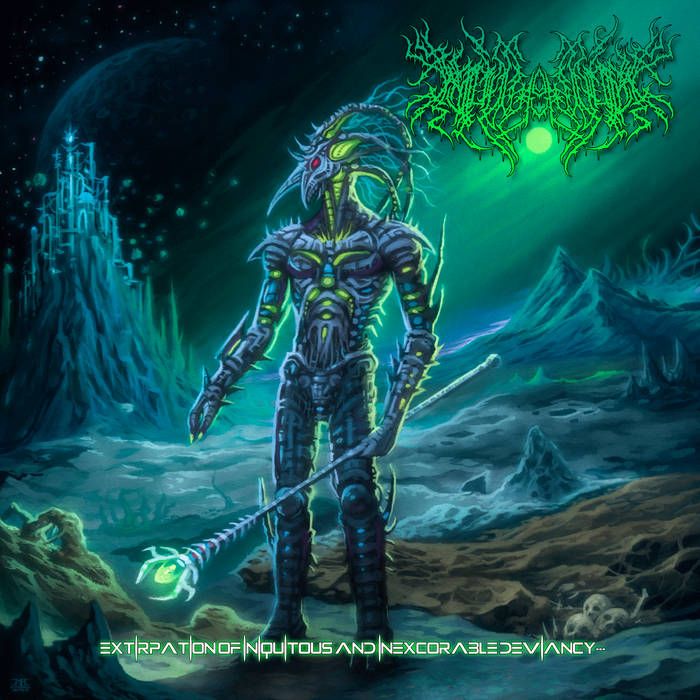 Insidious Asphyxiation- Extirpation Of Iniquitous & Inexorable Deviancy CD on CDN Rec.
$ 11.00
Insidious Asphyxiation was formed in 2015 by brothers Cody and Bryon "Cricket" Johnson. In 2017, the brothers digitally released a compilation EP entitled "Tales from The Cornfield" consisting of two previously released singles and three unreleased songs, before disbanding. Later in 2017 the band was revived with Dazz Palmer joining to write and record the instrumentals with Bryon on vocals.
The duo signed with Dazz's Label, Mortuus Music, with an EP being planned but never released. In 2018 Rich Fahringer joined the project, handling the instrumentals with Bryon on vocals. This iteration of Insidious Asphyxiation released the 2-song "Promo 2018" EP in September of 2018 through Global Decimation Audio, with a full length album being planned and written but delayed.
In April of 2020, Bryon left the band and picked his successor, Phoenix Tomlin, to helm vocals with Rich continuing his role writing and recording the instrumentals. Together the duo completed the debut full length album "Extirpation of Iniquitous and Inexorable Deviancy", releasing it digitally on Christmas Eve 2020.
The band garnered the attention of CDN Records in January of 2021 and subsequently signed with the label, finding backing for the debut record. Insidious Asphyxiation began production in December 2020 of a yet-to-be-titled sophomore album, scheduled for completion and release mid 2021 to early 2022.