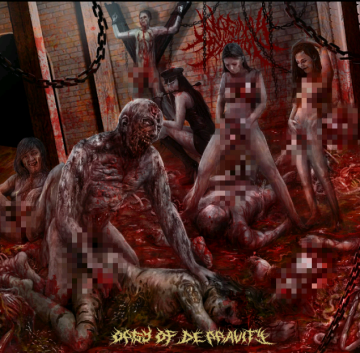 Vaginal Addiction- Orgy Of Depravity CD on CDN Rec.
$ 11.00
NOW SIGNED TO SEVARED RECORDS, FUCKING SICK!!!!!!  BRUTAL CANADIAN DEATH METAL/GORE – INCREDIBLE RELEASE!!!!!
Originally it is Alain Jackson, (Founder and Guitarist of Carbonized 16 Year Old Victim) who had the idea of the band. It was to be a side project oriented towards Goregrind but it was suspended for a long time due to a lack of stable or motivated musicians. Then in Autumn 2014, when Alain met Allan Capdepont, arriving from the Basque Country, things started to take shape.
The musical chemistry was immediate, and in two jams, 4 songs were written – taking a turn towards Brutal Death N.Y. style. They started jamming with Drummer Sean Connors, but it was with the simultaneous arrival of J-F Rochette (Ex-Exsanguinate, then in Rotten Wound) at the end of December 2014 and that of Arnaud Cloutier (Exsanguinate, Barbaric Penetration) in the beginning of January 2015 that the project could finally be cemented.
Less than 3 months later, VxA was already on the scene, with some very good shows on their agenda, such as the opening of the Obscene Extreme America in Montreal and dates the same year with bands such as Putrid Pile, Malignancy, PLF, Internal Bleeding, Dehumanized, Dysentery, and Psycho.
F
After rejecting several Label proposals in America and Europe, VxA is proud to have joined the CDN Records family for their 1st Full Length "Orgy of Depravity", to come this Fall.
Despite the controversy and the barred doors due to their name, and several changes in Drummers and the temporary replacement of their Bassist, Vaginal Addiction is now a machine that is here to stay and they are ready to demolish everything in their path. You will understand once having seen them live. That's Gonna End Badly.
– From Montréal, Québec